In the 2013-2014 academic year, our Department has gained two new faculty members: Dr. John Gathegi and Specialist Orçun Madran.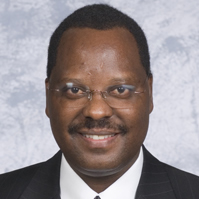 Dr. John N. Gathegi has joined our Department as a visiting professor for the 2013-2014 academic year. Dr. Gathegi is professor in the School of Information and a courtesy professor in the School of Mass Communications at the University of South Florida teaching and researching in the area of information law and policy, copyright, media law, and the First Amendment. His interests include intellectual property rights and emerging information technologies, information security, internet governance, free speech and access to legal information. He earned his Doctor of Philosophy (Information Studies) and Juris Doctor (Law) degrees from the University of California at Berkeley, where he was articles editor on the Berkeley Technology Law Journal. He also earned a Masters of Arts degree in political science at Berkeley. Dr. Gathegi has practiced law in California, was previously Director of the School of Library and Information Science at the University of South Florida, Dean of the Humanities, Arts and Social Sciences Division at Merritt College in California, and has been a Fulbright Senior Specialist to Chile. He began his teaching career at Florida State University. Dr. Gathegi has also been a visiting professor at the University of Social Sciences and Humanities in Ho Chi Minh City, Vietnam, and has been a guest lecturer at both Shih Hsin University in Taipei, Taiwan, as well as Sun Yat-sen University in Guangzhou, China.
Orçun Madran, received his undergraduate degree in 1999 from the Department of Library and Information Science of Hacettepe University. After working as a manager and instructor in various private companies Madran was transferred to Başkent University in 2001 and he worked as a lecturer and Vice Head of Department in the Faculty of Communication and the Department of Computer Education and Instructional Technology. Between 2011-2013, Madran had started to work in Atılım University Educational Technologies and Pedagogy Office (ETPO) as a koordinator and manager. Madran is a PhD student of Ankara University and is still working on his thesis which is about Educational Technologies. His main research areas include distance education, e-learning, mobile information systems.